tributes to Vaughn Fairbanks
My interaction with Vaughn is really rather infrequent, but his influence is felt daily. He shoulders a burden willingly and not only is a friend's load lighter, a family's burden is lifted. He will never seek recognition or praise for his part. In fact, if you didn't know his contributions intimately, you would never know the yoke that he carries. There is a word among ancient Israel 'Otzmah' used to describe someone with these qualities. It is fittingly "fortitude."
Powered by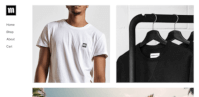 Create your own unique website with customizable templates.