I asked my friend to send me one of his favorite videos. When I received a link to the above YouTube video, I thought no wonder I like him so much. This is Bart at his finest. He's fun, uplifting, wise, and resourceful...a lot like this video. My hats off to those who rise above their challenges to change the world.
Grace. Beauty. Talent. It's not about eliminating the fear. It's about finding the courage in the face of fear that matters the most. Stand up and put one foot in front of the other...kinda like how you should do everything else in life.


Powered by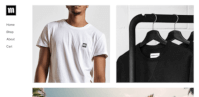 Create your own unique website with customizable templates.